January 1, 2019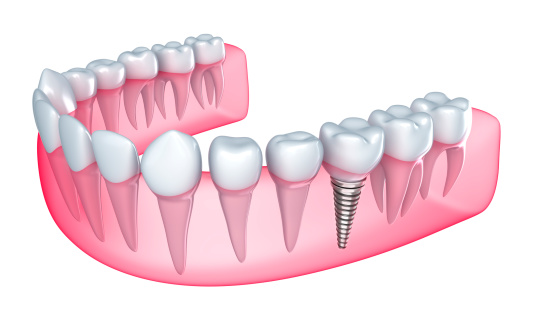 Lots of people want to know about the benefits of dental implants in coral Ridge. But is implant therapy a viable choice for people with osteoporosis who take bisphosphonates for the condition? A recent study answers that question with an emphatic "yes."
Groundbreaking Research Offers Surprising Results
Osteoporosis is a condition in which the bones become progressively more brittle over time. It's linked to causes such as a protein- and calcium-poor diet, use of drugs or alcohol, physical inactivity, and the onset of menopause.
On the surface, osteoporosis may seem like an automatic disqualifier for implants, which rely on the bones in the jaw to retain their strength. But is this true? Researchers wanted to know. That is why they recently conducted a study which a group of women with osteoporosis, who were taking medications for the condition, received dental implants.
The researchers followed up with the women one year later. The implants were holding up just fine, despite the presence of osteoporosis and the use of bisphosphonates. The surprising finding is welcome news indeed for those with thinning bones who desire the benefits of implant therapy.
Do Dental Implants Increase Blood Flow?
Some researchers believe that the presence of dental implants may actually help to counteract complications associated with osteoporosis by improving blood flow to the bones in the jaw. If this is true, then it may suggest added benefits from implant therapy.
We must caution that these findings represent preliminary research, not final conclusions. Nonetheless, they come as exciting news to anyone who is interested in dental implants.
Want to Know More? Your Dentist in Coral Ridge Is the One to Ask
The best way to learn more about your eligibility for dental implants is to talk to an implant dentist in your area. He or she will perform a complete oral examination, review your health history, and discuss your treatment options with you at that time.
Enjoying the greatest benefit from dental implants requires eating a healthy, well-rounded diet. This should include plenty of protein and calcium, vitamins and minerals, dietary fiber, and healthy monounsaturated and polyunsaturated fats. The patient should also exercise regularly, minimize consumption of alcohol and sugary foods, and brush and floss daily.
There is a strong correlation between tobacco use and increased risk of many health problems, including bone fractures. Dental patients should consider the benefits of a tobacco-free lifestyle and talk to their medical provider about new ways to kick the habit, including ways to reduce the discomfort of withdrawal symptoms.
Many prospective implant recipients have already suffered advanced bone loss in the upper or lower jaw. Bone graft surgery is a viable option for many of these people. Your implant dentist can give you more information.
Advances in medical and dental science are enabling millions of Americans to live longer, more active lives. Talk to your dentist soon about implants and other options for restoring your dental health. Sometimes it only takes a little information to put a big smile on your face.
About the Author
Dr. Mark Mingel is an outstanding general and cosmetic dentist who earned his dentistry degree from the prestigious Tufts University School of Dental Medicine in Boston. Dr. Mingel is originally from South Florida and enjoys living in the Coral Ridge area. You can reach his office online or by calling (954) 566-1548.
Comments Off

on What People with Osteoporosis Need to Know about Dental Implants in Coral Ridge
No Comments
No comments yet.
RSS feed for comments on this post.
Sorry, the comment form is closed at this time.