June 13, 2018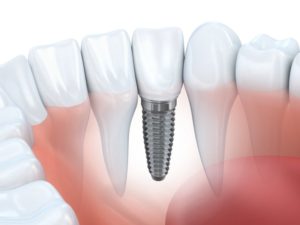 If you're having issues with your dentures always slipping or your dentist is telling you that your dental bridge needs replacing, you may want to keep reading this post. Dental implants can help reduce your missing teeth and give you the security you desire. They are also known for being more expensive upfront compared to other tooth replacement options, but are they worth it?
According to your dentist, patients have a lot to gain from dental implants in 33306 because of their long-term benefits and for being more cost-efficient.
What is the Average Cost of Dental Implants?
According to the American Academy of Implant Dentistry, the average cost of dental implants lies between $3,000 and $4,500 per tooth. This average can vary depending on the health of the patient's jawbone, where you're getting your implants from, how much dental insurance is covering your treatment, and the doctor's credentials.
It's important to be cautious of dentists offering a low upfront cost for dental implants. There's a lot of truth when it comes to the saying "You get what you pay for." The last thing you want is for a dentist to rush your consultation or planning stage, especially for a procedure as complex as implant placement. This is why the consultation is key to learning if you've picked the right dentist in 33306 for the job.
How is the Price Determined?
The price largely depends on other treatments related to dental implants. The obvious factors that affect total cost include how many teeth you want to replace and which teeth you're replacing. However, many people don't think about the treatments that allow the process to happen at all, including bone grafts, sinus lifts, fabrications of custom implant-retained crowns, follow-up appointments, anesthesia, and so on. Bone grafts and sinus lifts provide patients additional bone when there isn't enough currently available.
For this reason, dentists can't give patients a specific price before they've examined them thoroughly. Furthermore, it's another reason why you shouldn't trust dentists who do give prices over the phone without performing an examination prior.
Are Dental Implants Worth It?
While this may sound surprising, dental implants are considered the most cost-effective solution for tooth replacement because of their durability. Dental bridges typically require replacement every 10 years. Dentures require replacing every five to seven years. Dental implants have the ability to last for 25 years and longer. This means that while they're upfront cost is high, their long-term cost is typically lower compared to less effective solutions.
Additionally, dental implants offers a unique list of benefits, including:
Increased confidence while speaking, eating, and performing other daily tasks
More natural-feeling teeth
Bone stimulation, which prevents your jawbone from shrinking and gives you more biting strength
Blood flow through a prosthetic root, helping the face keep its natural shape
The most durable replacement option in dentistry
Dental implants are not only the most ideal solution in terms of function, but in terms of cost as well, making them absolutely worth it compared to the alternatives. To see if implants are right for you and what your procedure will cost, schedule a consultation today!
About Mingel Dental
When you visit Dr. Marc Mingel for dental implants, you don't just get a professional opinion. You also get a dedicated team that can complete your treatment from start to finish all in one location. To learn more about his implant process, contact him through his website.
Comments Off

on Are Dental Implants in 33306 Worth It? A Dentist Explains
No Comments
No comments yet.
RSS feed for comments on this post.
Sorry, the comment form is closed at this time.