May 11, 2019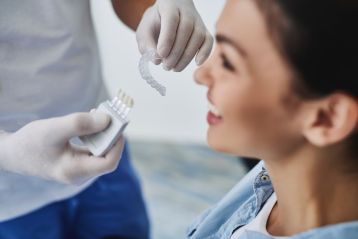 Today, more than ever before, people of all ages are choosing to straighten their teeth. And, understandably, everyone wants to do it as quickly and easily as possible. With modern treatments like Invisalign in Fort Lauderdale, it's easier than ever. But not all orthodontic options are created equal! Invisalign can only be done by a certified dentist who oversees the process from start to finish, while services such as Smile Direct Club are done without professional guidance. Keep reading to learn why it's so worth it to use a reliable, effective method like Invisalign to achieve the smile you've always wanted.
The Value of Using Invisalign Instead of Smile Direct Club
Invisalign offers many important benefits over Smile Direct Club:
The quality of the impressions and trays – Your clear aligner trays are made based on the impressions that are taken, which need to be highly accurate to make sure the trays move your teeth correctly. With Invisalign, they'll be taken by a dentist who's been trained to get accurate impressions. With Smile Direct Club, you'll take them on your own.
Invisalign trays are anchored – Before you get your first set of Invisalign trays, your dentist will put small, tooth-colored attachments on your teeth that hold the trays in place. This also helps them put pressure on the right areas of your smile. With Smile Direct Club, you won't have this advantage.
Accountability – If there any issues with your Invisalign treatment, you'll have a professional you can speak with who's accountable for your results.
Professional resource – It's not uncommon to have questions or concerns as you move through your orthodontic treatment. Having a highly-trained dentist available to look at your teeth and advise you accordingly is incredibly valuable.
How Does Invisalign Work?
The first step is a consultation with a cosmetic dentist in Fort Lauderdale who can make sure you're a good candidate and that you'll get the results you're after. From there, you can get started in just a couple of visits. Here's what the process is like:
First, precise digital impressions are taken and sent to the Invisalign lab where your trays are made, which usually takes about 3 weeks.
Then you'll return to pick up your first set of trays and have the tooth-colored attachments put on that anchor them in place.
You'll try your first set of trays in and get instructions for how to wear and maintain them. You'll also be able to ask any questions you may have before getting started.
You'll use a new set of aligners about every 2 weeks and come back for a progress visit every 4-8 weeks to pick up additional trays.
Remember, orthodontic treatment is an investment, so you want it to be done right the first time. It's well worth it to have a professional guiding the process!
About the Author
Dr. Marc Mingel is an Invisalign-certified dentist and a graduate of the Tufts University School of Dental Medicine. He knows how important a straight, even smile is for good oral health and is thrilled to offer an alternative to braces like Invisalign. If you're considering Invisalign in Fort Lauderdale and have any other questions, he can be contacted via his website.
Comments Off

on Benefits of Invisalign In Fort Lauderdale Compared To Smile Direct Club
No Comments
No comments yet.
RSS feed for comments on this post.
Sorry, the comment form is closed at this time.