February 25, 2019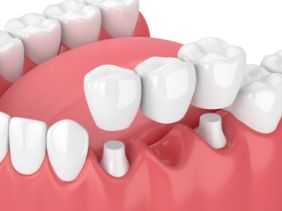 Did you know that, at one time, people used materials like beeswax and wood to fix damaged teeth? Thankfully, those days are long gone. Modern dental work is stronger and more reliable than ever, but, like anything, it doesn't last forever and needs to be replaced at some point. If you've broken a dental crown or bridge and need a replacement, an emergency dentist in Fort Lauderdale can make a brand new restoration in just 1-2 weeks. But don't worry – you won't have to walk around without a tooth during that time! Keep reading to learn why crowns and bridges can break and how you'll be given a temporary restoration until the permanent one is made!
Why Would a Crown or Bridge Break?
As mentioned, nearly all dental work needs to be replaced eventually because it's subject to wear-and-tear just like natural teeth are. Here are some common reasons a crown or bridge might break:
Chewing things like ice, pens, hard candies, or nuts.
Trauma or blunt force
When tooth decay (i.e. a cavity) forms on the natural tooth under the restoration (this is more likely if the tooth and gumline haven't been kept clean). This decay eats away at the tooth and can cause the crown or bridge to break or become loose and fall off.
Despite your best efforts at preventing these emergency situations, sometimes they happen anyway! In that case, you can call a dentist in Fort Lauderdale to have a replacement made.
What's the Process of Having a New Dental Crown or Bridge Made?
The basic steps involved in having a dental crown or bridge made are very similar, so this explanation applies to both:
These procedures require two appointments. Here's what you can expect at the first:
First, a dentist will make sure that you're comfortable and out of pain. Normally when a crown or bridge is made, they would begin by shaping and preparing your natural tooth for the restoration. But, since that was already done when the initial restoration was made, your dentist will probably only need to make minimal changes.
Impressions are then taken and sent to a dental lab where technicians use them to custom-make the new crown or bridge.
Then, so you won't have to be without a tooth while you're waiting, a temporary crown or bridge is made for you to wear in the meantime. This allows you to chew, smile and function normally until your second appointment, although you will need to be fairly careful and avoid tough, hard, or sticky foods.
The second visit, 1-2 weeks later, will be much shorter. At this appointment, the temporary crown will be removed and the permanent one will be cemented into place. Finally, your dentist will check your bite and make any adjustments as needed.
By seeing a dentist as soon as possible after breaking a crown or bridge, you'll be well on your way to a restored smile and great oral health!
About the Author
Dr. Marc Mingel is a general, restorative, and emergency dentist in Fort Lauderdale who is dedicated to providing his community with outstanding dental care. When treating an emergency, he provides treatment that not only looks and feels great long-term, but short-term as well. If you've experienced a dental emergency or have any questions, he can be contacted via his website.
Comments Off

on Emergency Dentist In Fort Lauderdale Explains Benefits of Temporary Restorations
No Comments
No comments yet.
RSS feed for comments on this post.
Sorry, the comment form is closed at this time.