September 18, 2018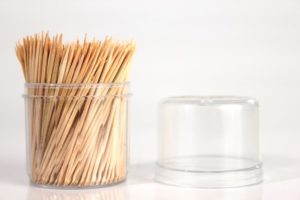 We've all been there before. You just ate a nice meal, maybe you have to loosen the belt a little, but the food was perfection. On the way out of the restaurant, you notice that there's something left over from dinner in between your teeth so you grab one of the many toothpicks that the restaurant kindly offers. While this may be a quick fix to your problem, toothpicks can actually harm your mouth more than help it. Read on to see why you should avoid using toothpicks and what you should do instead from your dentist in Galt Mile.
Why Shouldn't I Use Toothpicks?
An expert dentist and spokesperson with the American Dental Association, Sally Cram, gives an analogy to her patients: "Would you take a stick and poke it into your arm?" The short answer is no. Toothpicks are okay to remove big chunks of food occasionally, but they should not take the place of regular daily flossing.
The main problem or risk you take when using toothpicks is that a piece of wood can break off and get lodged in your gum tissue. Surprisingly enough, this isn't even the biggest issue toothpicks can cause. Once the piece of wood has pierced your gum tissue, bacteria can enter and cause infection. Dentists can usually tell if you are a habitual toothpick user because of damage on your gums during a dental exam. See below for more reasons you should avoid using toothpicks:
Spaces between teeth: When a toothpick is used in the same spot frequently, it can create space in between your teeth. This leads to more food getting stuck and even cavities.
Damages tooth enamel: Toothpick users tend to chew on the wood itself which can wear down enamel.
Damages tooth roots: Heavy use of toothpicks can shift your gum down to expose more of your tooth's root. This makes it much more likely to be damaged.
What Should I Use Instead?
Dentists can agree that the ideal way to remove food from in between your teeth is with dental floss. Flossing once a day removes leftover food stuck in hard to reach areas, but it also removes plaque that builds up in between your teeth. In addition to brushing, flossing plays an instrumental roll in preventing tooth decay, gum disease, and bad breath.
For some, flossing can be hard. Whether you have arthritis or just have trouble handling dental floss, you can use pre-threaded floss holders that make cleaning in between the teeth much easier. For special cases, your dentist may suggest using tiny spiral brushes or a water flosser. This is an at-home tool that uses a targeted stream of water to remove plaque and food particles.
We know toothpicks might make you look cool, but they aren't a sustainable tooth cleaning method. Next time you want to reach for a pick, grab the floss instead to keep your mouth healthy and happy.
Meet the Dentist
Dr. Marc Mingel is a general and cosmetic dentist that enjoys helping his patients practice good oral healthcare. His patients enjoy his friendly and easy-going attitude when they visit his office. He currently practices at Mingel Dental and can be contacted by phone at (954) 566-1548 for any questions.
Comments Off

on Can I Use a Toothpick to Clean My Teeth? Your Dentist in Galt Mile Explains
No Comments
No comments yet.
RSS feed for comments on this post.
Sorry, the comment form is closed at this time.