October 5, 2017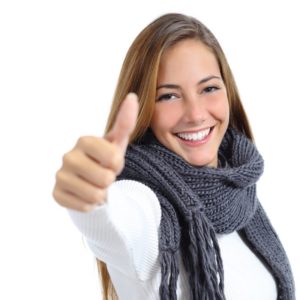 Many patients may be wanting to give themselves a great gift this year. That's right, they're thinking about giving themselves a better smile! The best way to do that is with porcelain veneers in 33306. This quick, convenient cosmetic treatment is a great way to cover up all your most embarrassing flaws and love your smile again.
This all sounds great and dandy, but many patients still wonder, "What's the catch?" To be honest, the longevity of your veneers depends on how well you maintain them. Luckily, your dentist is here to explain how to make your veneers last years and years!
Understanding Porcelain Veneers
You may have heard of porcelain veneers before as an instant smile makeover because they are one of the best way to improve a smile that even has multiple flaws. Veneers are micro-thin layers of dental porcelain or composite resin material—high-quality dental resources your dentist crafts into your customized, perfected smile. Each veneer is personalized and crafted to alter the size, shape or color of an individual tooth in your smile. By simply masking your flaws, you'll have a newer, brighter smile that you can't help but show off.
Get the Most Out of Your Veneers
As mentioned above, the success of your veneers depends on how well you maintain them. After all, they are still dental work that needs the help of your excellent dental care hygiene and professional assistance from your dentist. Here are some of the most helpful tips to make your veneers last.
Pay Attention to the Foods You Eat
Although porcelain veneers generally don't wear out because of certain foods or drinks that the patient chooses to eat and drink, some consumables may make the veneer become duller and less attractive over the years. Some strong beverages like red wine or coffee make the veneer lose its "shine" even though they are stain resistant. If you decide to eat and drink certain substances in moderation, your veneers should be fine. Ask your dentist for more information on how to maintain a healthy diet for veneers.
Watch Your Bad Habits
Many people have habits that can badly affect their oral health. Some of these habits include nail biting, grinding of the teeth, biting too hard when chewing, or putting things other than food in their mouths like chewing on pen caps. These habits may also affect the condition of veneers if constantly done repeatedly. Seek assistance from your dentist for a personalized mouth guard if you experience clenching and grinding symptoms.
Try to Avoid Dental Accidents
Lastly, we've got accidents that may happen. If you accidentally bite down on something hard or fall and hit your jaw, then there is a big possibility that the dental work will be damaged. When this happens, the veneer may break. In this case, visit an emergency dentist right away for assistance!
Your dentist is prepared to help you feel great about your smile going into the new year with porcelain veneers. Contact your local cosmetic dentist in Fort Lauderdale for more information.
---
About Our Office
If you'd like to learn whether you're a good candidate for veneers, don't wait! Our helpful office is more than excited to help you achieve the smile of your dreams. Simply contact our Fort Lauderdale location today to schedule a cosmetic consultation! Our team looks forward to helping you develop your personalized cosmetic plan today.
Comments Off

on Give Yourself the Best Gift: Porcelain Veneers in 33306
No Comments
No comments yet.
RSS feed for comments on this post.
Sorry, the comment form is closed at this time.