June 18, 2017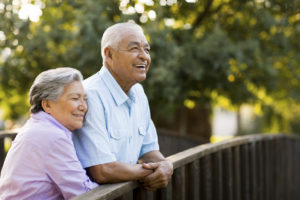 If you are missing all of your teeth in the upper or lower jaw, you're not alone. Some 35 million Americans are fully edentulous, meaning they do not have any healthy teeth left at all. Fortunately, you can get back your secure smile even after losing all your teeth — the secret is All-on-4 in Fort Lauderdale. This popular replacement option offers a number of benefits and is completed in only 24 hours. Interested? We thought you might be. Keep reading to learn more about All-on-4 from Dr. Marc Mingel.
What Is All-on-4?
Also called Teeth In a Day, All-on-4 dental implants offer a faster way to achieve a fully functioning smile after total tooth loss in the upper or lower jaw. A complete denture can be supported on as few as four dental implants using the All-on-4 method. The implants are surgically placed and restored either immediately after or within 24 hours of the procedure. All-on-4 implants draw maximum support from the jawbone, and usually eliminate the need for preliminary procedures like bone grafting or sinus lift that would be necessary for traditional implant dentistry.
All-on-4 vs. Traditional Dental Implants
Compared to the conventional method, All-on-4 dental implants offer a faster and more efficient solution for a sturdy denture after total tooth loss. Traditional dental implants can take up to a year to complete, and they also require the placement of as many as eight implants (or even more) to support a full denture.
All-on-4 implants are longer than traditional ones, and strategic placement allows them to provide maximum support for the prosthetic teeth that are affixed on top. In short, All-on-4 provides patients with all of the benefits of dental implants, just without the long waiting periods.
Compared to traditional dental implants, All-on-4 offers…
Faster time to your new teeth

A more affordable option, as fewer dental implants are required overall

Reduced need for bone augmentation procedures beforehand

Wider eligibility

Can sometimes secure an existing denture
Benefits of All-on-4 Dental Implants
Restored ability to eat, speak, and smile with confidence

Improved facial volume and appearance

A long-lasting investment in your smile

Stabilize the jawbone for improved oral health

Easy cleaning and maintenance
Is All-on-4 Right for You?
If you are on the verge of total tooth loss, or if you are already dealing with the stress of a loose denture, you may be an excellent candidate for All-on-4 dental implants. Because this method eliminates the need for preliminary procedures, even patients who were previously ineligible for dental implants may be able to benefit from  All-on-4.
Let's Discuss Your Tooth Replacement Today!
If you have lost all of your teeth in the upper or lower jaw, All-on-4 can help you regain your confident, beautiful smile. Find out more about your eligibility for Teeth In a Day from the team at Mingel Dental! Request an appointment with your dentist in Fort Lauderdale today.
Comments Off

on You Can Smile Again with All-on-4 In Fort Lauderdale
No Comments
No comments yet.
RSS feed for comments on this post.
Sorry, the comment form is closed at this time.